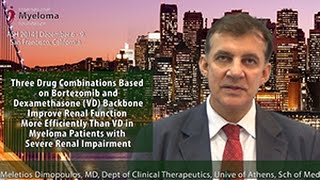 Dr. Meletios Dimopoulos on three-drug combinations based on bortezomib and dexamethasone (ASH 2014)
Post date
October 15, 2015
Three Drug Combinations Based on Bortezomib and Dexamethasone (VD) Backbone Improve Renal Function More Efficiently Than VD in Myeloma Patients with Severe Renal Impairment

Meletios Dimopoulos, MD
Department of Clinical Therapeutics
National and Kapodistrian University of Athens School of Medicine
Athens, Greece

Program: Oral and Poster Abstracts
Session: 653. Myeloma: Therapy, excluding Transplantation: Poster III

Meletios A. Dimopoulos1, Maria Roussou1*, Evangelos Terpos1, Erasmia Psimenou1*, Maria Gavriatopoulou1*, Evangelos Eleutherakis-Papaiakovou1*, Despoina Kalapanida1*, Marios Bakogeorgos1*, Despoina Mparmparoussi2*, Theodoros P. Vassilakopoulos3*, Dimitra Gika1*, Charis Matsouka2*, Ioannis Boletis4*, Kostas Konstantopoulos5* and Efstathios Kastritis, MD1*
1Department of Clinical Therapeutics, National and Kapodistrian University of Athens, School of Medicine, Athens, Greece
2Hematology Division, Alexandra General Hospital, Athens, Greece
3Department of Hematology and Bone Marrow Transplantation Unit, National and Kapodistrian University of Athens, Laikon General Hospital, Athens, Greece
4Department of Nephrology and Transplantation, National and Kapodistrian University of Athens, School of Medicine,, Athens, Greece
5Department of Hematology, National and Kapodistrian University of Athens, School of Medicine,, Athens, Greece

Renal impairment (RI) is a frequent complication of multiple myeloma (MM) and is associated with significant morbidity and risk of early death. Patients with severe RI (eGFR <30 ml/min/1.73 m2) have worse outcome and are frequently excluded from clinical trials. Two or three drug combinations based on the bortezomib and dexamethasone (VD) backbone have been proposed by the IMWG as the treatment of choice for patients who present with RI. In order to evaluate if two or three drug combinations were more efficient in patients who present with severe RI, we studied 56 (28M/28F) consecutive, unselected, newly diagnosed MM patients with severe RI who were treated in our center (University of Athens, Greece). Assessment of the degree of RI was made with the MDRD formula. Severe RI was defined as an eGFR of <30 ml/min/1.73 m2. Renal complete response (CRrenal) was defined as a sustained increase of baseline eGFR to >60 ml/min/1.73 m2, renal partial response (PRrenal) as an increase of eGFR from <15 to 30-50 ml/min/1.73 m2and renal minor response (MRrenal) as a sustained improvement of baseline eGFR of <15 ml/min/1.73 m2 to 15-29 ml/min/1.73 m2 or if baseline eGFR was 15-29 ml/min/1.73 m2, improvement to 30-59 ml/min/1.73 m2.
The median age of patients was 65 years (range: 37-88 years) and 21% of them were >75 years of age. The median eGFR was 11.2 ml/min/1.73 m2 (range: 3.4- 29.2 ml/min/1.73 m2); 64% had eGFR <15 ml/min/1.73 m2, including 16 (28.5%) patients who received dialysis with regular filters. Median level of proteinuria was 1.8 g/24h (range 0.2-12 g/24h) and involved free light chain (FLC) was 4250 mg/l (range 4.4-35,200 mg/l). All patients received VD-based regimens: 23 (41%) received VCD, 18 (32%) received VD, 8 (14%) received VTD, 5 (9%) received PAD, and 2 (4%) patients received VMP.
An improvement of renal function (at least MRrenal) was recorded in 39 patients (70%) within a median time of 21 days (range 4-152 days). CRrenal was documented in 43% of patients and PRrenal in 9% (major renal response rate of 52%). Seven of 16 (44%) patients who required dialysis became dialysis independent. The median time to major renal response was 28 days (range 7-152 days). Patients with eGFR ≥15 ml/min/1.73 m2 (p=0.06) and age <65 years (p=0.036) had more rapid renal recovery (≥PRrenal). The type of light chain, presence of hypercalcemia (≥11 mg/dl) and elevated serum LDH (≥250 U/L) were not predictive of the probability of renal response. Using ROC analysis, we identified serum FLCs >12,500 mg/L as a cut-off associated with major renal response: only 16% of patients with FLCs >12,500 mg/L achieved a major renal response vs 59% of the others (p=0.053).
Three-drug combinations (VTD, VCD, PAD, VMP) vs VD alone were associated with higher probability of major renal responses (65% vs 26%; p=0.006). Myeloma response to treatment by IMWG criteria was predictive of major renal response (p=0.05) in the univariate analysis. In multivariate analysis, adjusted for age >65 years and need for dialysis, the use of three-drug combinations was independently associated with a higher probability of major renal response (OR: 3.91, 95% CI 1.014-15, p=0.048). There was also a trend towards a shorter time until a major renal response for patients treated with three vs two drugs (35 vs >90 days, p=0.14). There was no significant difference in the probability of major renal response or time to renal response for those who received VTD vs VCD, PAD or VMP, even after adjusting for need of dialysis and age. Among patients who required dialysis, 9 (56%) received a three drug combination (5 VTD, 3 VCD and one PAD); among patients who became independent of dialysis 3 received VTD, 1 PAD and 3 VD.
An early death (within <2 months from treatment initiation) occurred in 6 (11%) patients (5 had received VD and only one VTD). The median survival for all patients was 53 months, similar for patients who achieved a major renal response vs those who did not (p=0.413). Toxicities were similar to those seen in myeloma patients without renal failure who were treated with bortezomib-based regimens.
In conclusion, our data indicate that bortezomib–based regimens can improve renal function in the majority of patients with severe RI. Three drug combinations based on VD are associated with a higher probability of major renal response and with a shorter time to renal recovery and should be offered to all newly diagnosed patients with severe RI. The FLC level could be used as a predictive factor for renal response.
---
ABOUT DR. MELETIOS A. DIMOPOULOS
Dr. Meletios A. Dimopoulos, is a Professor of Hematology and Medical Oncology, Chairman of the Department of Clinical Therapeutics and Rector of the National and Kapodistrian University of Athens, Greece. Dr. Dimopoulos has authored more than 1,000 publications in peer-reviewed journals, with more than 47,000 citations and an h-index of 102 (ISI). He is a member of the IMF Scientific Advisory Board.
Previous Post
Dr. Parameswaran Hari on oprozomib & dexamethasone in patients w/relapsed and/or refractory myeloma (ASH 2014)
Next Post
Dr. Evangelos Terpos on VR consolidation post-ASCT (ASH 2014)