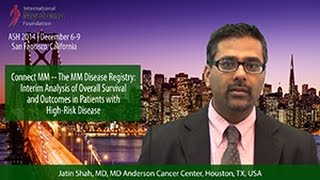 Dr. Jatin Shah on Connect MM: Overall survival and outcomes in high-risk myeloma (ASH 2014)
Dr. Jatin Shah from MD Anderson Cancer Center in Houston, Texas discusses Connect MM®-- the Multiple Myeloma (MM) Disease Registry-- and interim analysis of overall survival and outcomes in patients with high-risk disease.
Program: Oral and Poster Abstracts
Session: 653. Myeloma: Therapy, excluding Transplantation: Poster I
Jatin J. Shah, MD1, Rafat Abonour, MD2, Brian G M Durie, MD3, Jayesh Mehta, MD4, Mohit Narang, MD5*, Howard Terebelo, DO6, Cristina J Gasparetto, MD7, Sachdev P. Thomas, MD8, Kathleen Toomey, MD9*, James W Hardin, PhD10*, Shankar Srinivasan, PhD11*, Rosanna J. Ricafort, MD11*, Yasir Nagarwala, MD11 and Robert M. Rifkin, MD12*
1Department of Lymphoma/Myeloma, The University of Texas MD Anderson Cancer Center, Houston, TX
2Indiana University Simon Cancer Center, Indianapolis, IN
3Cedars-Sinai Outpatient Cancer Center at the Samuel Oschin Comprehensive Cancer Institute, Los Angeles, CA
4Robert H. Lurie Comprehensive Cancer Center, Northwestern University, Chicago
5Maryland Oncology Hematology, Columbia, MD
6Providence Cancer Institute, Southfield, MI
7Division of Cellular Therapy, Duke University Medical Center, Durham, NC
8Illinois Cancer Care, Peoria, IL
9Steeplechase Cancer Center, Hackensack, NJ
10University of South Carolina, Columbia, SC
11Celgene Corporation, Summit, NJ
12US Oncology Research, Inc., The Woodlands, TX
Background: MM treatment (Tx) advances have greatly improved clinical outcomes for patients (pts). A recent study demonstrated improved survival in MM through the past decade attributable to the impact of initial therapy with lenalidomide, bortezomib, and thalidomide. The greatest impact was observed in older pts (Kumar, et al. Leukemia, 2014). Connect MM, the first and largest prospective, observational, US-based, multicenter registry was designed to characterize pts, Tx patterns, and outcomes in newly diagnosed MM (NDMM).
Methods: This ongoing registry was initiated in September 2009. Eligible pts with NDMM (diagnosis must have occurred within 2 mos of study entry) were enrolled at 234 US sites. Data were collected at baseline and each subsequent quarter using an electronic case report form. The initial enrollment includes all pts who had provided informed consent as of November 1, 2012 (N = 1493). The data cutoff for this analysis was Dec 10, 2013. A total of 1444 pts were treated and were included in overall survival (OS) analyses. Survival was examined for all treated pts adjusting for pt and Tx characteristics including age, autologous stem cell transplant (ASCT) status, gender, race, disease risk factors (International Myeloma Working Group [IMWG] high risk vs. non-high risk), and therapy received (triplet vs. non-triplet) among others. Triplet therapy was defined as any combination of 3 or more drugs during the first Tx regimen. OS was estimated using Kaplan-Meier methods and comparisons across groups were assessed used the log-rank test.
Results: At the time of data cutoff, 1493 pts were enrolled with 1444 having received Tx. Of the treated pts 253 pts (18%) had IMWG high-risk disease and 108 pts (7%) had del(17p) at baseline. Median age was 67 y (range, 24-94 y), 57.2% were male, and 81.9% were white. Median follow-up was 29 mos (0-49.4 mos). The median OS for all treated pts  was 44.4 mos. When assessed by age group, OS was significantly different (log-rank P < .0001) with a median of 47.6 mos for pts aged < 65 y (n = 632), 45.0 mos for those aged 65 to < 75 y (n = 443), and 33.7 mos for those aged ≥ 75 y (n = 369). OS was significantly longer for pts with ASCT vs. no ASCT (P < .0001), but not different by gender (P = .962) or race (Caucasian vs. African American vs. other; P = .250). Three-year OS probabilities by subgroup are listed in Table 1. When considering risk factors, IMWG risk was borderline significant (high vs. non-high; P = .106), and presence of del(17p) by cytogenetics and FISH was associated with significantly shortened OS (P = .005; Figure 1A). Interestingly, use of triplet therapy vs. non-triplet therapy was associated with significantly prolonged OS regardless of IMWG risk (non-high: P < .0001; high: P = .003; Figure 1B). However, no improvement was noted for triplet vs. non-triplet therapy in pts with del(17p). By multivariate analysis, the significant (P < .05) factors impacting OS were age (in 10-yr increments), International Staging System (ISS) disease stage, ECOG performance status, history of diabetes, anemia, renal function, and platelet count.
Conclusions: This interim analysis based on initially treated pts demonstrated that age, ISS stage, and co-morbidities impact OS irrespective of IMWG cytogenetic risk. Triplet Tx was associated with significantly longer OS in pts regardless of IMWG risk status. This is the largest prospective pt cohort with high-risk disease including del(17p). Pts with high-risk disease did not have significantly lower OS vs. pts without high-risk features. Pts with del(17p) (p53 deletion) continue to have shorter OS approaching 3 y and increased survival with use of triplet therapy.
---
ABOUT JATIN J. SHAH, MD
Jatin J. Shah MD Is the Senior Vice President of Clinical Development at Karyopharm Therapeutics. For nearly ten years at MD Anderson, Dr. Shah served as an Associate Professor and Associate Program Director of the Malignant Hematology Fellowship, as well as Director of Myeloma Clinical and Translational Research in the Department of Lymphoma/Myeloma, Division of Cancer Medicine. Dr. Shah received his medical degree from Ohio State University College of Medicine, Columbus, Ohio, and his undergraduate degree, also from Ohio State University, in Mechanical Engineering. He has served as principal investigator/co-investigator for numerous relapsed/refractory multiple myeloma studies and has published articles and abstracts in many peer-reviewed journals Visit Dr. Jatin J. Shah's full biography.
Previous Post
IMWG 2014: ASH Oral and Posters Review and High Risk Smoldering MM