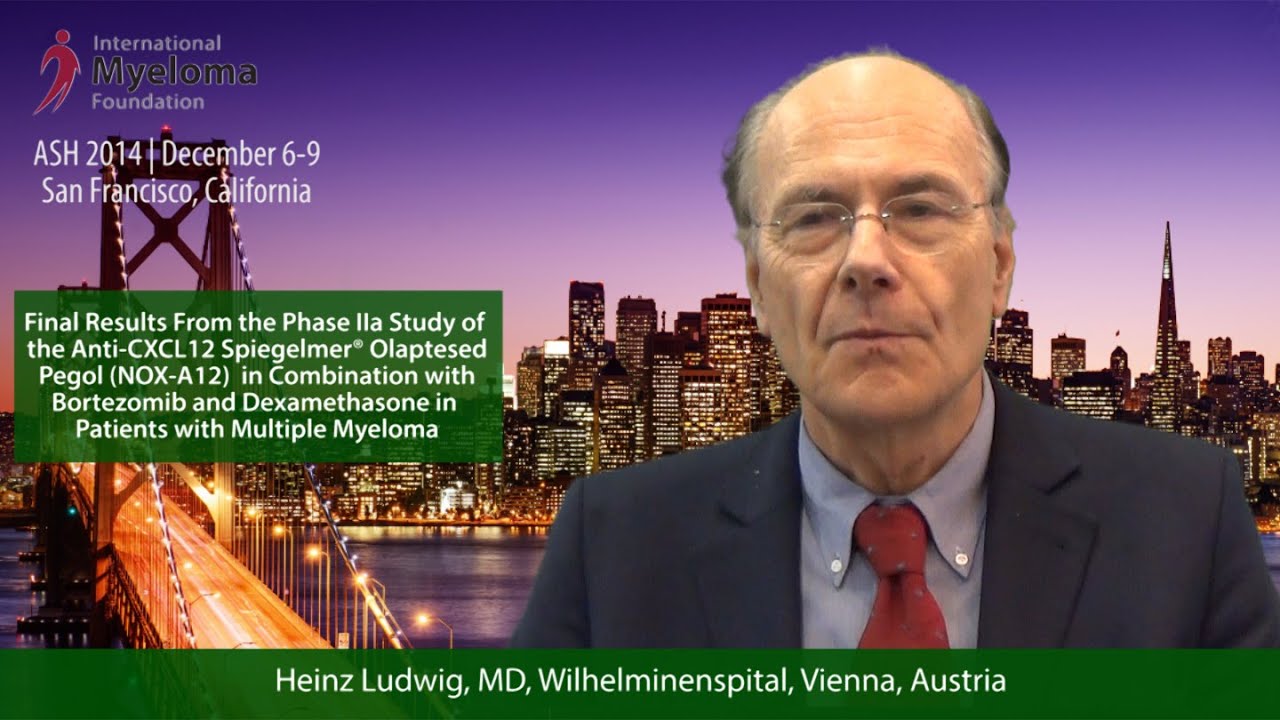 Dr. Heinz Ludwig on Olaptesed Pegol (NOX-A12) in myeloma Phase IIa Trial from ASH 2014
Dr. Heinz Ludwig of Wilhelminenspital in Vienna, Austria discusses the final results from the Phase IIa Study of the Anti-CXCL12 Spiegelmer® Olaptesed Pegol (NOX-A12) in combination with bortezomib and dexamethasone in patients with multiple myeloma (Abstract 2111) at the 2014 American Society of Hematology (ASH) meeting.
Program: Oral and Poster Abstracts
Session: 653. Myeloma: Therapy, excluding Transplantation: Poster I
Heinz Ludwig, Univ. Prof. Dr.1, Katja Weisel, MD2*, Maria Teresa Petrucci, MD3*, Xavier Leleu, MD4, Anna Maria Cafro, MD5*, Laurent Garderet, MD6*, Niklas Zojer, MD7*, Robin Foa, MD8, Richard Greil, MD9, Ibrahim Yakoub-Agha, MD, PhD4, Anna Kruschinski, PhD10*, Thomas Dümmler, PhD10*, Kai Riecke, MD10* and Monika Engelhardt, MD11
1Department of Medicine I, Wilhelminen Cancer Research Institute, Wilhelminenhospital, Vienna, Vienna, Austria
2Hematology & Oncology, Department of Medicine, University Hospital Tübingen, Tübingen, Germany, Tübingen, Germany
3Hematology, Department of Cellular Biotechnology and Hematology, Sapienza University, Rome, Italy
4Service des Maladies du Sang, Hopital Claude Huriez, CHRU Lille, Lille, France
5Oncology and Hematology, Niguarda Ca' Granda Hospital, Milan, Italy
6Hematology, CHU St Antoine, Paris, France
7Department of Medicine I, Wilhelminen Cancer Research Institute, Wilhelminenhospital, Vienna, Austria
8Hematology, Department of Cellular Biotechnologies and Hematology, Sapienza University, Roma, Italy
9Universitaetsklinikum der PMU, AGMT, Hospital Salzburg, Salzburg, Austria
10NOXXON Pharma AG, Berlin, Germany
11Dept. of Hematology, Oncology and Stem Cell Transplantation, University Medical Center, Freiburg, Germany 
Background
Olaptesed, an L-stereo-isomer RNA aptamer, binds and neutralizes the chemokine CXCL12. By interaction with the chemokine receptors CXCR4 and CXCR7, CXCL12 is responsible for trafficking and homing of normal and malignant blood cells to the bone marrow. Preclinical studies have shown synergistic activity of CXCL12-targeting and anti-myeloma agents, specifically bortezomib (BTZ). Thus, targeting the myeloma niche may increase treatment efficacy.
Aims
This open label single arm study was conducted to assess the activity and safety of olaptesed when added to the combination of BTZ and dexamethasone (DEX) in patients with relapsed / refractory multiple myeloma (MM).
Patients and Methods
Twenty-eight relapsed or refractory MM patients (males:females 14:14) were enrolled and treated according to a dose titration design. Olaptesed was administered intravenously at doses increasing from 1 mg/kg to 2 mg/kg and 4 mg/kg in cycles 1, 2 and 3, respectively, at 1 hour prior to bortezomib administration. During cycles 4 to 8, olaptesed was dosed at the highest individually titrated dose. BTZ (1.3 mg/m2) was given on days 1, 4, 8 and 11 as intravenous injection. Oral DEX (20 mg) was added on the day of and on the day after BTZ administration. Response was evaluated based on the uniform IMWG response criteria (Rajkumar SV et. al. Blood 2011; 117: 4691-5). Plasma cell mobilization was studied after a pilot dose of 1 to 4 mg/kg olaptesed administered to the initial 10 patients before start of the regular treatment regimen.
Results
From Aug 2012 to Feb 2014 we enrolled 28 patients who had received a median of 2 (range 1-6) lines of prior therapy. Pretreatments were lenalidomide (LEN) in 20, BTZ in 14 and carfilzomib in 1 patient. Ten patients had autologous stem cell transplantations prior to entering this study.
The patient population enrolled presented predominantly with advanced disease and with adverse outcome predictors.
Ten patients had ISS stage III. High-risk cytogenetics were identified in 9 of the 20 patients (45%) with FISH testing available for t(4;14), t(14;16) and/or del17p. Eleven patients were refractory to their last prior treatment, which contained BTZ in 8 cases.
After two early withdrawals, 26 patients were available for outcome evaluations. The median number of completed cycles was 8. Progression led to treatment termination in 8 patients. The dose of olaptesed was titrated to 4 mg/kg in all 18 patients treated for 3 or more cycles.
The single dose of olaptesed administered to 10 pilot-patients effectively mobilized plasma cells, which increased by approximately 200% for up to 3 days.
Based on "best response" of the 26 evaluable patients, the overall response rate was 73%: Two patients (8%) achieved a complete response (CR), 6 patients (23%) a very good partial response (VGPR) and 11 patients (42%) a partial response (PR). Minimal response was recorded in 2 patients (8%), 4 patients (15%) had stable disease and 1 patient (4%) progressive disease.
In the 9 evaluable patients with high-risk cytogenetics, the clinical responses were similar. The ORR was 67% with VGPR in 3 (33%) and PR in 3 (33%) patients. Of the 14 patients pre-treated with BTZ, 1 had a CR and 8 a PR (ORR 64%).
M-protein decreased rapidly from treatment cycle 1 to cycle 4 with a decrease of ≥50% being observed in 15 of the 26 evaluable patients. Figure 1 shows a waterfall plot of the maximum observed decrease in M-protein.
---
ABOUT HEINZ LUDWIG, MD, PhD
Dr. Heinz Ludwig is a specialist in medical oncology, hematology, and internal medicine. Dr. Ludwig is Director of the Wilhelminen Cancer Research Institute, Dir. em. of the Department of Medicine, I, Center for Oncology, Hematology and Palliative Care in the Wilhelminen Hospital, Vienna. Visit Dr. Hienz Ludwig's full biography.
Previous Post
Dr. Katja Weisel discusses whole body low-dose CT for myeloma in GMMG-GM5 trial (ASH 2014)
Next Post
IMWG 2014: ASH Oral and Posters Review and High Risk Smoldering MM