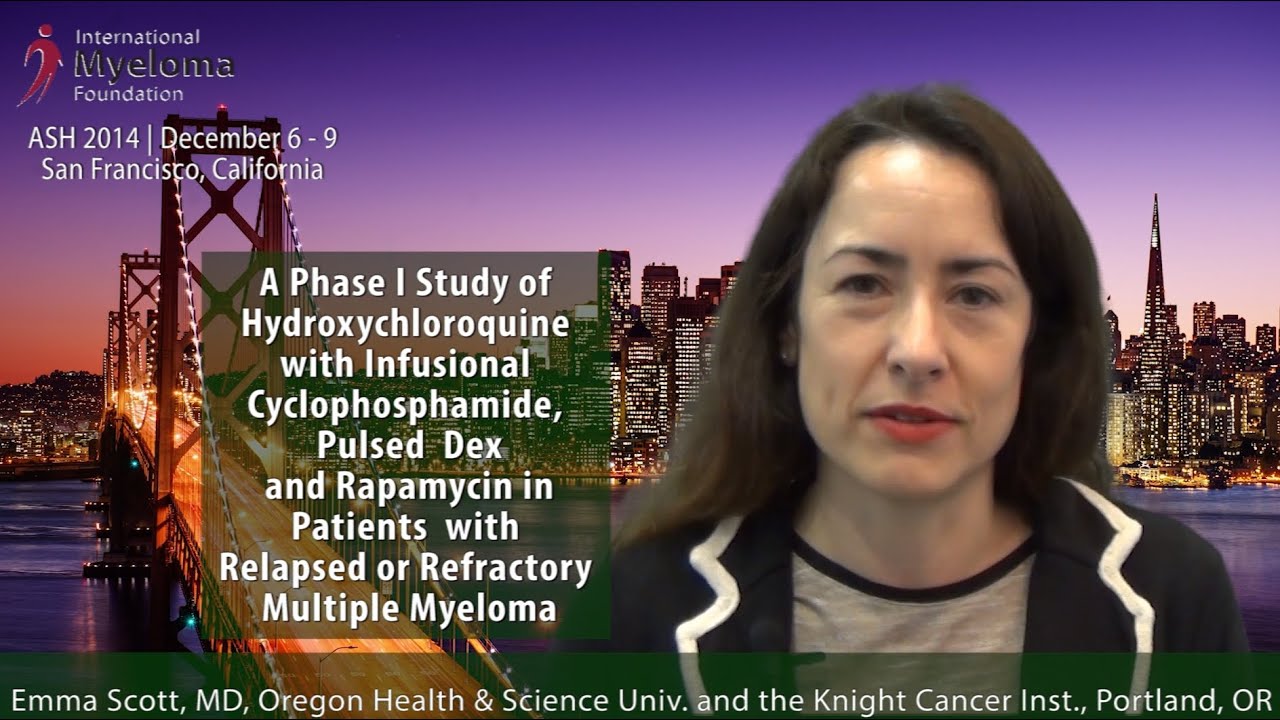 Dr. Emma Scott: Hydroxychloroquine, Cyclophosphamide, Plus Dex, Rapamycin in myeloma (ASH 2014)
Dr. Emma Scott (Knight Cancer Institute, Oregon Health and Science University, Portland) discusses a phase I study of hydroxychloroquine with infusional cyclophosphamide, pulse dexamethasone and rapamycin in patients with relapsed or refractory multiple myeloma. These phase I study results were presented at the 56th American Society of Hematology (ASH) Annual Meeting. ASH 2014 abstract 3449.
Program: Oral and Poster Abstracts
Session: 653. Myeloma: Therapy, excluding Transplantation: Poster II
Emma C. Scott, MD1, Dan T. Vogl, MD, MSCE2,3, Shara Reasor-Heard4*, Kevin Floyd5*, Eva Medvedova, MD6, Stephen E. Spurgeon, MD1, Miranda Gordon, RN5*, Anne Kratz, RN4*, Matthew B. Siegel, MD7*, Marc Loriaux, MD, PhD8*, Phoebe Trubowitz, MD4*, Stephen D Smith, MD9, Selina Qiuying Liu10*, Ranjana Arora, MD5*, Edward A. Stadtmauer11, Ravi K. Amaravadi, MD12* and Richard T. Maziarz, MD6
1Knight Cancer Institute, Oregon Health and Science University, Portland, OR
2Multiple Myeloma Program, Abramson Cancer Center, University of Pennsylvania, Philadelphia, PA
3Hematologic Malignancies Program, Abramson Cancer Center, University of Pennsylvania, Philadelphia, PA
4Center for Hematologic Malignancies, Oregon Health and Science University, Portland, OR
5Oregon Health and Science University, Portland, OR
6Oregon Health & Science University, Portland, OR
7Division of Hematology and Oncology, Oregon Health and Science University, Portland, OR
8Oregon Health & Science University Knight Cancer Institute, Portland, OR
9Oregon Health & Science University / now University of Washington Fred Hutchinson Cancer Research Center, Seattle, WA
10oregon Health and Science University, portland, OR
11Myeloma Program, Abramson Cancer Center, University of Pennsylvania School of Medicine, Philadelphia, PA
12Abramson Cancer Center, University of Pennsylvania, Philadelphia, PA 
Background. Chemotherapy resistance is a major barrier to improving outcomes in relapsed and refractory MM (RRMM). Inhibition of mTOR signaling induces cell-cycle arrest, apoptosis and sensitizes MM cells to dexamethasone (dex) and alkylators. Autophagy is a lysosome-dependent degradative pathway activated in malignant cells that allows cells to survive the intracellular metabolic crisis induced by chemotherapy and signaling inhibitors. Preclinical evidence suggests that mTOR signaling and activation of autophagy are inter-related mechanisms of chemotherapy resistance. We therefore conducted a phase I trial adding the mTOR inhibitor, rapamycin (rapa) and the autophagy inhibitor, hydroxychloroquine (hcq), to a conventional chemotherapy backbone, with the primary objective of showing that the combination is well tolerated and a secondary objective of evaluating in vivo whether the regimen effectively inhibits  autophagy and mTOR signaling in tumor cells.
Methods. Patients with RRMM who had received > 1 prior line of therapy including bortezomib and lenalidomide were enrolled in a standard 3 + 3 dose escalation study with hcq dose levels ranging from 400 to 1200 mg. Continuous infusion cyclophosphamide (cy) 300mg/m2 /day and dex 40mg by mouth were given on days 1-4 of a 28 day cycle. Rapa 12mg loading (on day -2) and 4mg daily doses by mouth were given on days -1 to 4 and hcq was started on cycle 1 day 5 and continued daily by mouth thereafter. Pegfilgrastim 6mg was given on day 6. Dose- limiting toxicity (DLT) was defined as grade >3 adverse events as per CTCAE version 4.0 occurring during the first 2 cycles with exclusion of expected toxicities with cy.
Bone marrow aspiration (CD 138 magnetic bead selected plasma cells) and biopsies were obtained at 3 timepoints: baseline, cycle 1 and 2 day 5 for pharmacodynamic assessments including: electron microscopy to evaluate autophagic vesicles, immunoblotting for LC3 II, I, phosphorylation of S6, AKT and eIF4E. Hcq and rapa trough levels were obtained from peripheral whole blood.
Results. We enrolled 15 patients, between 1/2013 and 6/2014, of whom 12 completed at least 2 cycles and were evaluable for response. Toxicity evaluation included all 15 patients. Patients had received 3-10 (median 6.5) prior lines of therapy. The median number of cycles completed was 4.5 (range 1-12). 14 patients had received prior melphalan autologous stem cell transplant and 4, additional alkylator based regimens. Reasons for study discontinuation were disease progression (PD) 5, lack of response 6, treatment toxicity 2, and 2 patients remain on study. Two DLTs occurred at the 4th dose level: grade III diarrhea related to hcq and in another patient, grade IV thrombocytopenia that did not resolve possibly related to cy, hcq or rapa. The maximum tolerated dose (MTD) is hcq 800mg and this cohort has been expanded to include 3 more patients. Other significant adverse events included grade 4 thrombocytopenia 4, neutropenia 1, lymphopenia 5, grade 3 catheter associated MRSA bacteremia 2, diarrhea 2, constipation 2, abdominal discomfort 1, prolonged QTc 1.
Three patients came off study after 1 cycle due to PD, toxicity and patient choice. In the remaining 12, anti-myeloma activity was seen in 9 patients: 3 partial (PR)  and 6 minor (MR) responses. Stable disease (SD) was seen in 2 subjects while one had PD. Time to maximum and duration of response was 2 and 3-6 months respectively for patients achieving PR. For those achieving SD/MR, time to next treatment was 1-7 months (median 4) and not yet reached in 1. Median hcq trough levels in cohorts 1-4 were 466, 838, 1486 and 1635 ng/ml respectively (range 363-2130). Rapa trough levels were 3.2-17.8 ng/mL.  
Autophagic vesicle counts over time were noted to increase in responders and LC3 II:I increased in most patients on higher dose cohorts suggestive of inhibition of autophagy. Changes in signaling pathways were appreciated and results will be presented.
Conclusions. The addition of mTOR and autophagy inhibition to a backbone of cy/dex yields a tolerable regimen with durable responses in heavily pretreated patients. Hcq at the MTD results in whole blood concentrations known to inhibit autophagy.  In vivo assessment of autophagy and mTOR pathways is feasible and correlation with clinical response will be possible in larger studies. A randomized phase 2 study is needed to determine the synergistic properties of dual mTOR and autophagy inhibition vs  chemotherapy alone.
---
ABOUT EMMA SCOTT, MD
Dr. Scott specializes in multiple myeloma, systemic amyloidosis, MGUS, and other plasma cell disorders. She is the Director of the Myeloma and Multi-Disciplinary Amyloid Program at the Knight Cancer Institute. She has a broad medical experience, beginning in her native South Africa where she discovered her interest in hematologic malignancies. Her determination to learn the best in modern medicine, brought her to the USA to obtain advanced training in hematology and oncology. Dr. Scott enjoys the diversity of her work, which includes clinical care, clinical and translational research, teaching and service. Visit Dr. Emma Scott's full biography.
Previous Post
Dr. Brittany Dykstra on diagnostic value of PET-CT in evaluation of smoldering myeloma (ASH 2014)
Next Post
Dr. Parameswaran Hari on pharmacotherapy vs. observation for smoldering multiple myeloma (ASH 2014)