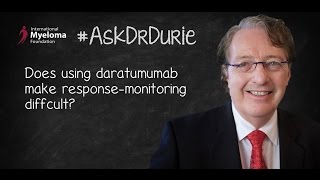 Does using daratumumab make response-monitoring difficult?

In this week's video, Dr. Brian G.M. Durie explains how daratumumab may interfere with response-monitoring and with blood transfusions for myeloma patients.
BOTTOM LINE:
​If you are taking dara, discuss response-monitoring with your doctor. 
IMF Chairman Brian G.M. Durie, MD welcomes your questions about the latest myeloma treatments, research, controversies and quality of life issues. If you have a question you think might be of interest to the myeloma community, please send to [email protected]!

For questions of a specific personal nature, please call the IMF InfoLine coordinators at 800.452.2873 or email them at [email protected]. 
---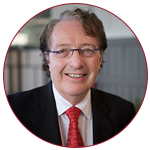 Dr. Brian G.M. Durie serves as Chairman of the International Myeloma Foundation and serves on its Scientific Advisory Board. Additionally, he is Chairman of the IMF's International Myeloma Working Group, a consortium of nearly 200 myeloma experts from around the world. Dr. Durie also leads the IMF's Black Swan Research Initiative®.
Next Post
Living Well with Myeloma: Nutrition