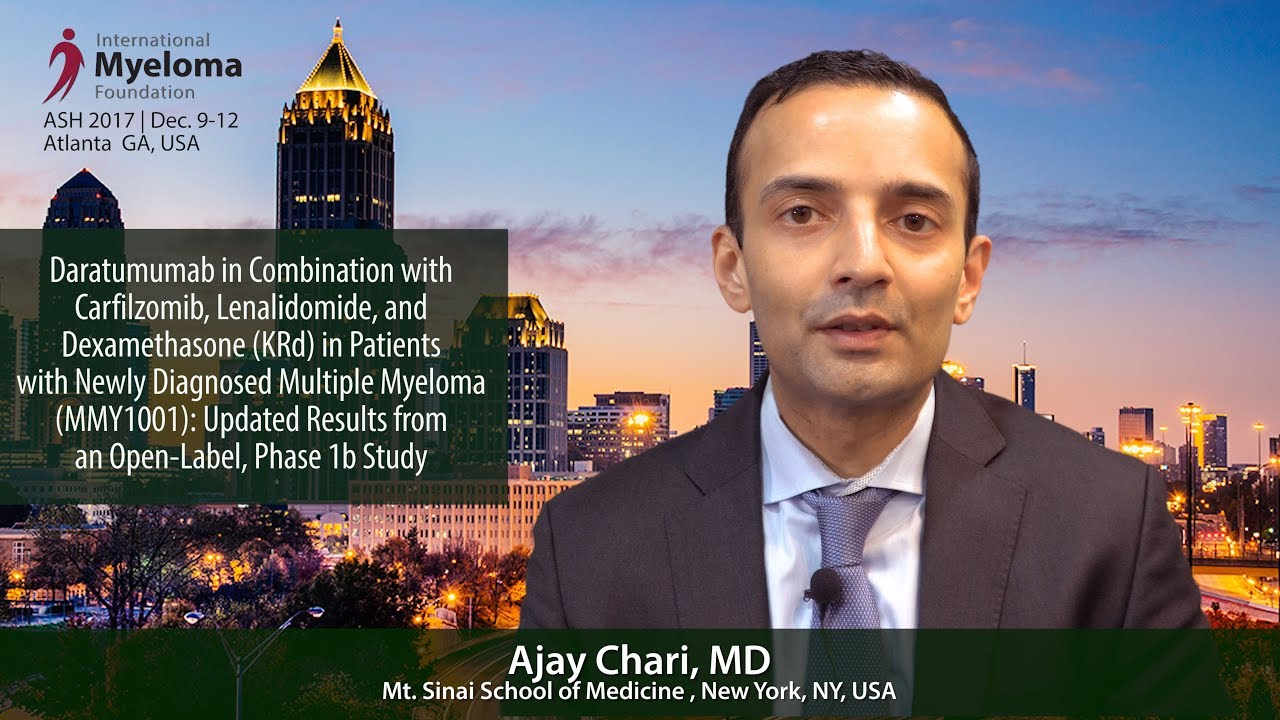 Daratumumab in Combination with Carfilzomib, Lenalidomide, and Dexamethasone (KRd) in Patients with Newly Diagnosed Multiple Myeloma (MMY1001)
Post date
December 19, 2017
Ajai Chari, MD
Mt. Sinai School of Medicine
New York, NY, USA
Introduction: Standard of care treatments for patients (pts) with newly diagnosed multiple myeloma (NDMM) include triplet regimens containing a proteasome inhibitor (PI) or an immunomodulatory drug (IMiD), with or without autologous stem cell transplant (ASCT). Among triplets, extended treatment with KRd has emerged as a highly active combination in NDMM (Jakubowiak AJ, et al. Blood, 2012;120[9]:1801-1809). As multiple myeloma progresses, the depth and duration of clinical response is reduced with each treatment relapse, making it critical for front-line therapy to drive pts to deep and sustained clinical responses. Daratumumab (DARA) is a human IgGκ monoclonal antibody (mAb) targeting CD38 with direct on-tumor and immunomodulatory mechanisms of action. DARA induces rapid, deep, and durable responses in combination with dexamethasone and either bortezomib or an IMiD (lenalidomide or pomalidomide) in pts with relapsed/refractory MM (RRMM; Palumbo A, et al. NEJM. 2016 375[8]:754-766; Dimopoulos MA, et al. NEJM. 2016 375[14]:1319-1331; Chari A, et al. Blood. 2017; epub, ahead of print). This open-label, multicenter, phase 1b study investigated the safety profile and efficacy of DARA in combination with KRd in NDMM.
Conclusion: DARA+KRd, with weekly K dosing, is well tolerated in pts with NDMM and demonstrates a safety profile consistent with previous reports of DARA and KRd. High response rates were observed with DARA+KRd and the depth of response improved with treatment duration. No adverse impact on stem cell collection was observed. These data support further investigation of DARA+KRd in NDMM.
Authors: Ajai Chari, Saad Z Usmani, MD, Amrita Krishnan, MD, Sagar Lonial, MD, Raymond Comenzo, Kaida Wu, Jianping Wang, Parul Doshi, Brendan M Weiss, MD, Jordan Schecter and Andrzej J. Jakubowiak, MD
---
ABOUT AJAI CHARI, MD
Dr. Ajai Chari is an Associate Professor of Medicine, Director of Clinical Research in the Multiple Myeloma Program, and the Associate Director of Clinical Research, Mt Sinai Cancer Clinical Trials Office in New York. His main areas of focus are plasma cell disorders including multiple myeloma, AL amyloidosis, POEMS syndrome, plasmacytoma, and monoclonal gammopathies of undetermined significance (MGUS). Visit Dr. Ajai Chari's full biography.
Selinexor is a first-in-class Selective Inhibitor of Nuclear Export (SINE) compound that binds and inactivates Exportin 1 (XPO1). Twice weekly (BIW) bortezomib in combination with dexamethasone (Vd) is an established therapy in relapsed and refractory mul
Previous Post
Daratumumab, Bortezomib, and Dexamethasone VS Bortezomib and Dexamethasone for RRMM Patients: An Update of Overall Survival in Castor
Next Post
Development of a Prognostic Model That Predicts 3- and 5-Year Overall Survival in Multiple Myeloma Using the Connect® MM Patient Registry