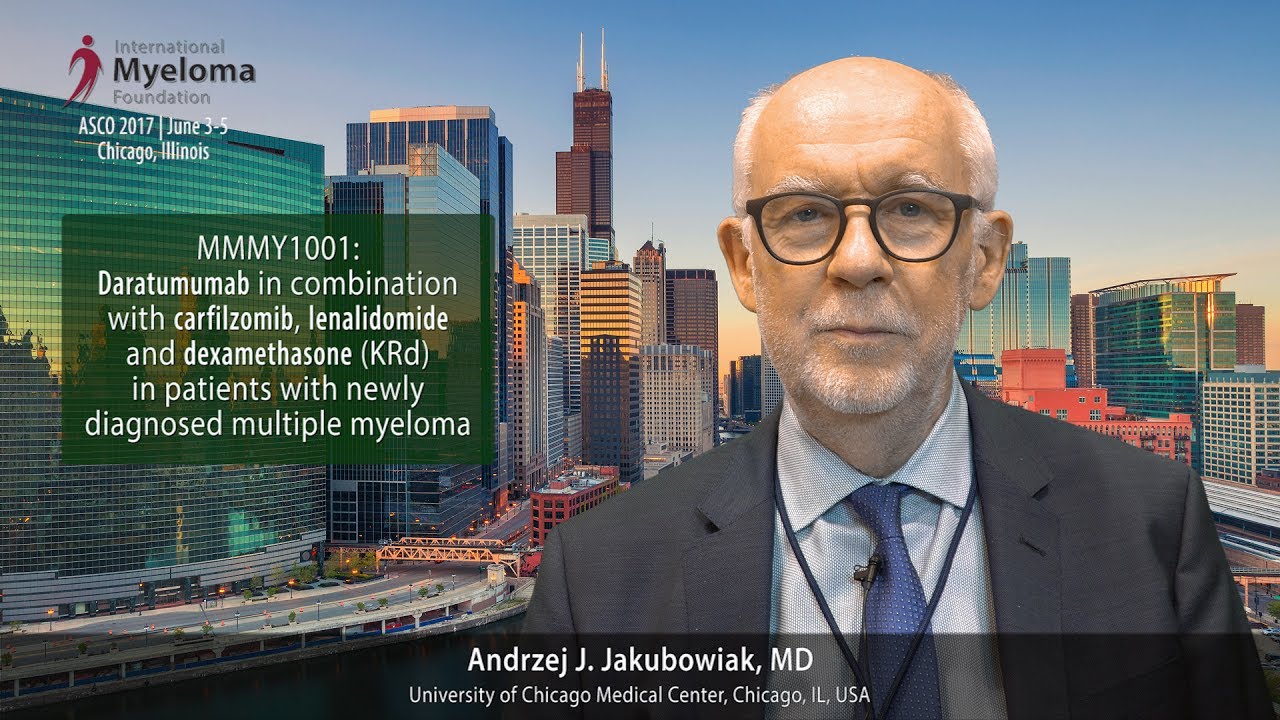 Daratumumab (DARA) in combination with carfilzomib, lenalidomide, and dexamethasone (KRd) in patients (pts) with newly diagnosed multiple myeloma (MMY1001)

Adrzej J. Jakubowiak, MD
University of Chicago Medical Center
Chicago, IL, USA
Background: DARA in combination with established standard of care regimens prolongs PFS, deepens responses, and demonstrates a favorable safety profile in relapsed or refractory multiple myeloma (MM). The tolerability and efficacy of DARA-KRd in newly diagnosed MM pts was examined.
Conclusions: The addition of DARA to KRd was well tolerated; the overall safety profile was consistent with that previously reported for KRd, with no additional toxicity observed with the addition of DARA. Deep and durable responses were observed. These data support further investigation of DARA-KRd as a frontline treatment regimen. Updated data will be presented based on longer follow up.
Author(s): Andrzej J. Jakubowiak, Ajai Chari, Sagar Lonial, Brendan M. Weiss, Raymond L. Comenzo, Kaida Wu, Nushmia Z. Khokhar, Jianping Wang, Parul Doshi, Saad Zafar Usmani; University of Chicago Medical Center, Chicago, IL; Tisch Cancer Institute, Icahn School of Medicine at Mount Sinai, New York, NY; Department of Hematology and Medical Oncology, Winship Cancer Institute, Emory University, Atlanta, GA; Abramson Cancer Center, Philadelphia, PA; Division of Hematology/Oncology, John C. Davis Myeloma and Amyloid Program, Tufts Medical Center, Boston, MA; Janssen Research and Development, LLC, Spring House, PA; Janssen Research and Development, LLC, Raritan, NJ; Levine Cancer Institute, Carolinas HealthCare System, Charlotte, NC
Clinical trial information: NCT01998971
---
ABOUT ADREZJ J. JAKUBOWIAK, MD, PhD
Dr. Andrezj J. Jakubowiak is a Professor of Medicine and Director of the Myeloma Program at the University of Chicago. His areas of focus include the development of new drugs for the treatment of multiple myeloma. He is the lead investigator on many multi-site clinical trials. He has been published in a number of medical journals, including the Journal of Clinical Oncology, Blood, and Leukemia and Lymphoma. View Dr. Adrzej J. Jakubowiak's full biography here.
Previous Post
Safety and efficacy of daratumumab-based regimens in elderly (≥75 y) patients with relapsed or refractory multiple myeloma: Subgroup analysis of POLLUX and CASTOR
Next Post
The impact of body mass index on the risk of early progression of smoldering multiple myeloma to symptomatic myeloma