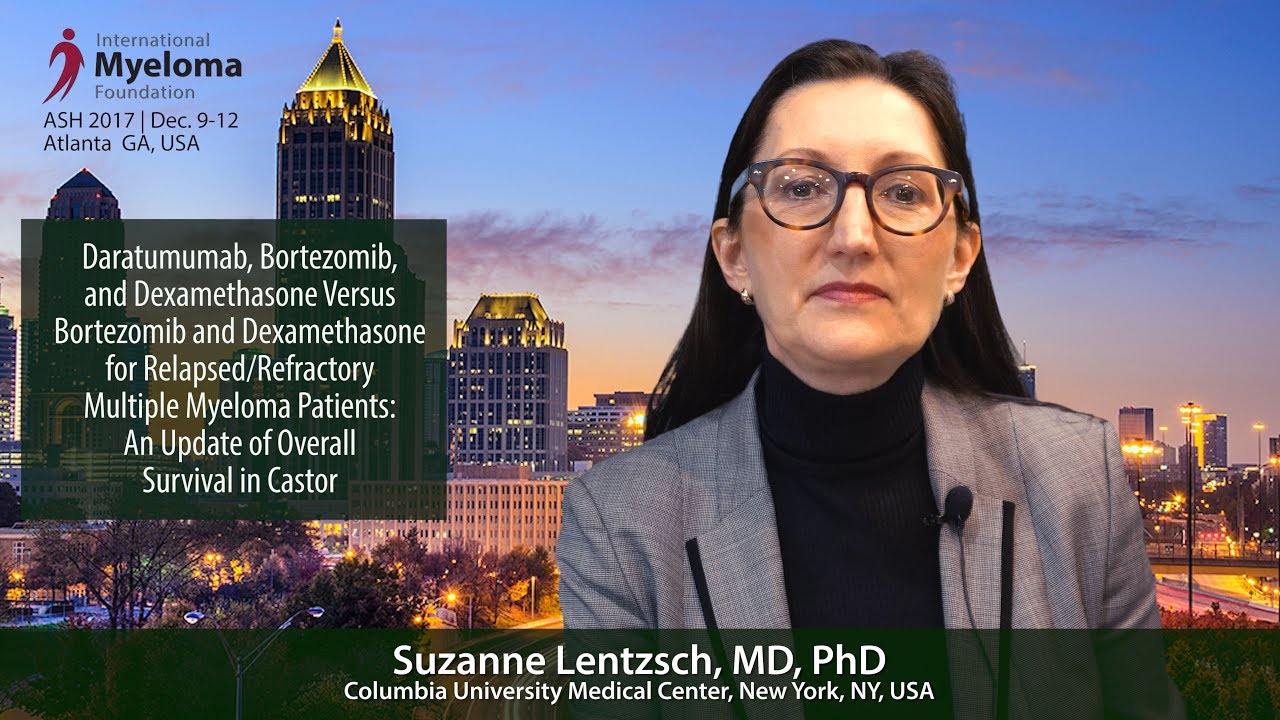 Daratumumab, Bortezomib, and Dexamethasone VS Bortezomib and Dexamethasone for RRMM Patients: An Update of Overall Survival in Castor
Suzanne Lentzsch, MD, PhD
Columbia University Medical Center
New York, NY, USA

Daratumumab (D) is a human monoclonal antibody targeting CD38 that is approved as monotherapy and in combination with immunomodulatory drugs (lenalidomide or pomalidomide) or a proteasome inhibitor (bortezomib) for RRMM. The combination of D and bortezomib plus dexamethasone (DVd) was compared to Vd in CASTOR (ClinicalTrials.gov NCT02136134), a randomized, multicenter, phase 3 study in patients with RRMM. In the primary analysis, 29 deaths in DVd and 36 deaths in Vd were observed (hazard ratio [HR], 0.77; 95% confidence interval [CI], 0.47-1.26; Palumbo et al, N Engl J Med 2016;375(8):754-66). Here, we provide an updated analysis of overall survival (OS) in CASTOR.
Authors: Suzanne Lentzsch, Hang Quach, MBBS, MD, Asher A. Chanan-Khan, MD, Noemi Horvath, FRACP, Marcelo Capra, MD, PhD, Roberto Ovilla, MD, Jae-Cheol Jo, MD, Ho-Jin Shin, MD, Piruntha Thiyagarajah, MBBS, BSc, Himal Amin, Tineke Casneuf, PhD, Pieter Sonneveld, MD, PhD, Jordan Schecter and Vania T M Hungria, MD, PhD
---
ABOUT SUZANNE LENTZSCH, MD, PhD
Dr. Lentzsch is a Professor of Clinical Medicine and the Director of the Multiple Myeloma and Amyloidosis Program at the College of Physicians and Surgeons of Columbia University and the New York-Presbyterian Hospital in New York. Dr. Lentzsch served as Clinical Director of the Multiple Myeloma Program at UPCI before accepting the position as Director of the Multiple Myeloma and Amyloidosis Program at Columbia University Medical Center. She cares primarily for patients with plasma cell dyscrasia, including MGUS, Multiple Myeloma, Amyloidosis, POEMS, and Waldenstrom's Macroglobulinemia. Dr. Lentzsch is an internationally recognized expert in the field of Multiple Myeloma and Amyloidosis. She serves as a SWOG Myeloma Committee Member, SWOG Study Coordinator, and the International Myeloma Foundation's Black Swan Research Initiative® committee member. She is a member of the standing advisory board for the evaluation of Secondary Primary Malignancies associated with IMiDs Visit Dr. Suzanne Lentzsch's full biography.
Previous Post
Differential Effect of t(11;14) Abnormality on Survival and Depth of Response in African American (AA) and Non-AA Patients with NDMM in the Connect® MM Registry
Next Post
Daratumumab in Combination with Carfilzomib, Lenalidomide, and Dexamethasone (KRd) in Patients with Newly Diagnosed Multiple Myeloma (MMY1001)