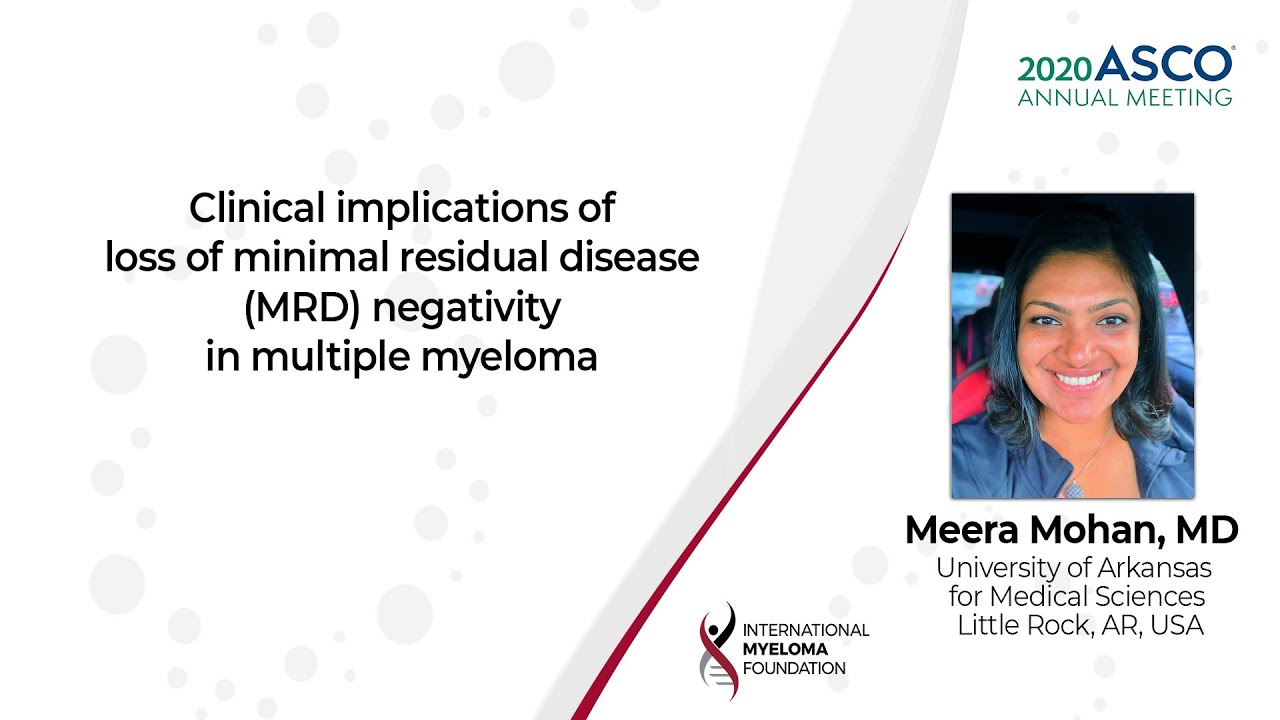 Clinical implications of loss of minimal residual disease (MRD) negativity in multiple myeloma
What was the goal of this study?
The attainment of minimal residual disease (MRD) negativity in multiple myeloma (MM) patients is increasingly considered an optimal therapeutic endpoint, but little is known about the MRD evolution in those who achieve this milestone. Researchers investigated the clinical implication of loss of MRD negativity or MRD conversion in patients with sustained Very Good Partial Response (VGPR).
In this video:
Dr. Meera Mohan (University of Arkansas of Medical Sciences) explains that researchers identified and followed 606 patients achieving a sustained ≥VGPR with bone marrow MRD negativity(≥ 2 consecutive reading) following treatment on a total therapy protocol and with a median follow-up of 10 years. All patient had negative PET and MRI DWIBS at enrollment. Serial bone marrow aspirate MRD was determined by 8-color next generation flow (NGF, EuroFlow) with a minimal sensitivity of 10−5 cells
Conclusions:
MRD conversion occurs in a significant proportion of MM patients (40%) on long-term follow-up and predicts future clinical relapse. Significance of MRD conversion has a temporal relationship from diagnosis and portray inferior clinical outcome particularly within 5 years of diagnosis.
Previous Post
Updated results from BELLINI, a phase III study of venetoclax or placebo in combination with bortezomib and dexamethasone in relapsed/refractory multiple myeloma
Next Post
Efficacy and Safety of KdD in Relapsed Refractory Multiple Myeloma: Cross‐study comparison of CANDOR and MMY1001