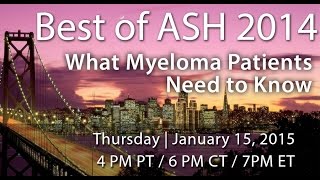 Best of ASH 2014 - What Patients Need to Know
Join Dr. Brian G.M. Durie as he discusses the latest news from the American Society of Hematology (ASH) Conference which recently convened in San Francisco on December 6-8th.

The ASH annual meeting is the largest global blood cancer meeting, featuring over 3,000 scientific abstracts, and was attended by more than 20,000 medical professionals.
Previous Post
Dr. Keith Stewart on the Interim results of the ASPIRE clinical trial (ASH 2014)
Next Post
Dr. Parameswaran Hari on oprozomib & dexamethasone in patients w/relapsed and/or refractory myeloma (ASH 2014)