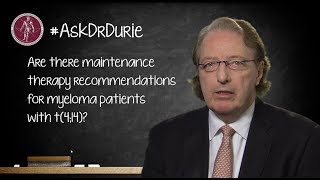 #AskDrDurie: Are there maintenance therapy recommendations for myeloma patients with t(4;14)?
Post date
October 19, 2015
In this episode of #AskDrDurie, IMF Chairman and Co-Founder Dr. Brian G.M. Durie addresses a question about what kind of maintenance therapy is recommended for those myeloma patients who have the t(4;14) chromosome abnormality.

Dr. Brian G.M. Durie is the Chairman of the Board of Directors of the International Myeloma Foundation. He began studying multiple myeloma over 30 years ago, and is recognized around the world as one of the top myeloma doctors.
Previous Post
#AskDrDurie: Should I have an ASCT if I've been through therapy and am in remission?
Next Post
#AskDrDurie: Are clinical trials part of the BSRI(R), and if so, how can I participate?