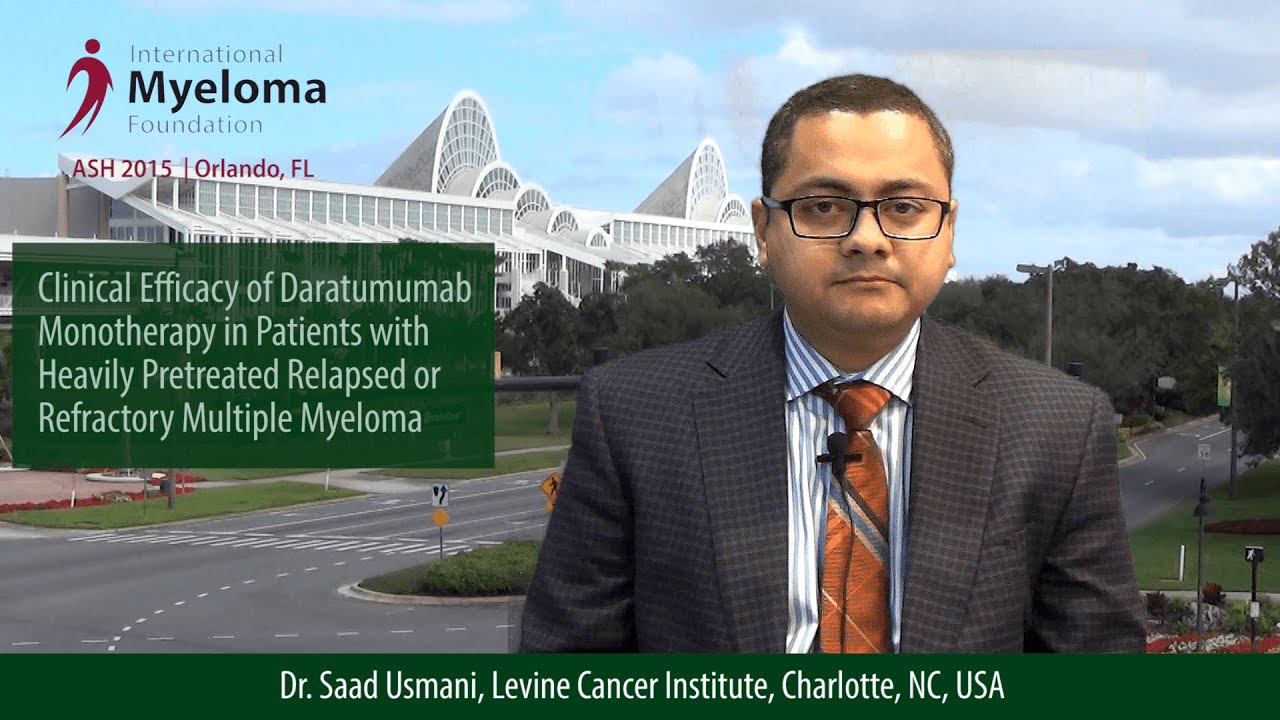 ASH 2015: Clinical Efficacy of Daratumumab Monotherapy in Patients with Heavily Pretreated RRMM
Post date
December 07, 2015
Introduction: Daratumumab (DARA) is a novel human CD-38-targeting monoclonal antibody in clinical development for multiple myeloma (MM). In two clinical studies (NCT00574288 [GEN501] and NCT01985126 [Sirius]), DARA monotherapy showed remarkable clinical activity and was well tolerated in heavily treated patients (pts) with relapsed and refractory (RR) MM (Lokhorst HM. J Clin Oncol 2014;32 Suppl:abstr 8513. Lonial S. J Clin Oncol 2015;33 Suppl: abstr LBA8512). A combined analysis of efficacy of 16 mg/kg DARA in these two studies is presented.
Methods: GEN501, a first-in-human open-label, two-part (Part 1 dose escalation; Part 2 dose expansion) study, enrolled pts with MM that had relapsed after or were refractory to ≥2 prior therapies. Sirius, an open-label, two-part study, enrolled pts with MM with ≥3 prior therapies, including a PI or IMiD, or were refractory to both a PI and an IMiD. Eligibility criteria included pts with absolute neutrophil count ≥1000/mm3, hemoglobin ≥7.5 g/dL, platelet count ≥75×109/L (GEN501) or ≥50×109/L (Sirius), and alanine aminotransferase ≤3.5 (GEN501) or ≤2.5 (Sirius) times the upper limit of normal. In GEN501 Part 2, the first 16 mg/kg DARA infusion was followed by a 3 week rest period, and then qw for 7 weeks, q2w for 14 weeks, and q4w thereafter. In Sirius, 16 mg/kg DARA was infused qw for 8 weeks, q2w for 16 weeks, and q4w thereafter. The combined analysis comprised pts treated with 16 mg/kg DARA in Sirius and Part 2 of GEN501. In both studies overall response rates (ORR) were assessed according to IMWG response criteria.
Results: The combined analysis included 148 pts (42 and 106 pts from GEN501 and Sirius, respectively). The median (range) age was 64 (31-84) years. Median time since initial diagnosis was 5.8 and 4.8 years in GEN501 and Sirius, respectively, and 62% and 82% of pts had received >3 prior therapies, respectively. In GEN501, 76% of pts were refractory to their last therapy and 64% were refractory to both a PI and IMiD; a greater proportion of pts in Sirius were refractory to their last therapy (97%) and double refractory to a PI and IMiD (95%). The ORR was 36% in GEN501 and 29% in Sirius; the ORR for the combined analysis was 31%. Best overall response is shown in Table. Responses deepened over time and the combined rate of very good partial response (VGPR) or better was 11% with 2 pts with complete responses (CR) and 3 with stringent CRs (sCR) across the two studies. In the combined analysis, median duration of response was 7.6 months and 46% of responders remained progression free at 1-year after a median follow-up of 9.3 months. Median overall survival (OS) had not been reached at median follow-up times of 10.2 months (GEN501) and 9.3 months (Sirius). The estimated 1-year OS rate (95% CI) was 77% (58-88), 65% (51-76), and 69% (58-77) for GEN501, Sirius, and the combined analysis, respectively. Forty-four of 46 responders were still alive at the time of the primary analysis. At a subsequent data cutoff for the combined analysis, after a median follow-up of 14.8 months, the estimated median OS was 19.9 months (95% CI, 15.1 – not estimable). ORR was similar across prespecified subgroups which included age, ISS stage, number of prior therapies, and refractory status.
Conclusions: Single-agent DARA (16 mg/kg) demonstrated remarkable clinical activity (31% ORR) in a combined analysis of two studies in heavily pretreated MM pts. The quality of the observed responses (11% VGPR or better, 2 CRs, and 3 sCRs) was noteworthy in this highly refractory population. DARA shows promising activity in pts who have exhausted other approved myeloma treatment options.
With support from Amgen, Bristol Myers Squibb, Celgene, Janssen Pharmaceuticals, and Takeda Oncology.
---
ABOUT SAAD USMANI, MD
Dr. Saad Usmani is Chief of Plasma Cell Disorders and Director of Clinical Research in Hematologic Malignancies at the Levine Cancer Institute Hematologic Oncology and Blood Disorders and Carolinas HealthCare System.
Previous Post
Myeloma 101: Updates on Treatment & Pain Management