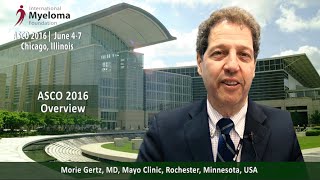 ASCO 2016: Multiple Myeloma Overview -- Dr. Morie Gertz
Dr. Morie Gertz from the Mayo Clinic Rochester, talks about the multiple myeloma clinical trials and abstracts presented at the annual American Society of Clinical Oncologists (ASCO) meeting in Chicago, IL.
---
ABOUT MORIE GERTZ, MD
Dr. Morie Gertz is a Hematologist/Oncologist and Chair of General Internal Medicine at the Mayo Clinic in Rochester, Minnesota. He treats both amyloidosis and multiple myeloma. View Dr. Morie Gertz's full biography here.
Previous Post
Living Well with Myeloma: What You Need to Know to Overcome Side Effects from Novel Therapies
Next Post
ASCO 2016: Pembrolizumab in combination with Lenalidomide and Low-Dose Dexamethasone for RRMM