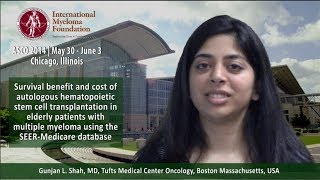 ASCO 2014: Survival benefit and cost of Auto HSCT in elderly patients with MM
Post date
October 13, 2015
Gunjan L. Shah, MD
Tufts Medical Center Oncology
Boston Massachusetts, USA

Survival benefit and cost of autologous hematopoietic stem cell transplantation (Auto HSCT) in elderly patients with multiple myeloma (MM) using the SEER-Medicare database
Background: Medicare coverage for Auto HSCT for MM began in 10/2000. By 2009, MM was the leading indication for this treatment (CIBMTR, 2011). The survival benefit and cost implications of the rise in Auto HSCT are not well described in this population. Using SEER-Medicare data, we explored these implications for MM patients (pts) age 66+ by comparing them with pts not undergoing Auto HSCT.
Methods: We used auto HSCT-specific ICD-9 or HCPCS codes to identify pts as having an Auto HSCT. We restricted the sample to pts age 66+ at time of MM diagnosis and used propensity score matching to create a cohort not receiving Auto HSCT. We calculated costs and survival for the first 100 days (d), year (yr), 3 yrs, and 5 yrs post-diagnosis using Kaplan-Meier curves stratified by patients receiving a transplant. We inflation-adjusted cost data to 2009 US dollars, using the medical care component of the Consumer Price Index. Patients were followed for up to 9 years.
Results: We identified 10,832 pts diagnosed with MM from 1/2000 to 1/2008. Of these, 267 received Auto HSCT. We created a matched "control" sample of 267 pts not having Auto HSCT (c-statistic 0.83). The samples had a median age at diagnosis of 69.8 yrs, with 60% males and 90% Caucasians. The Charleson comorbidity index (CCI) was 0 for 62% of the Auto HSCT and 67% of the control pts (p=0.52), with the rest having a CCI of 1+. Median time to transplant was 250d. Median survival increased from 822 to 1,705 days with Auto HSCT (p=<0.001). Overall survival (OS) with Auto HSCT was higher at all time points: 99 vs 87% at 100d (p=<0.001); 95 vs 71% at 1 yr (p=<0.001); 73 vs 45% at 3 yr (p=<0.001); and 48 vs 30% at 5 yr (p=<0.001). Mean cost post diagnosis was $301,000 vs 124,000 with a life year gain of 2 years with Auto HSCT. The incremental cost-effectiveness ratio was $88,500/life year.
Conclusions: Auto HSCT significantly increases OS in elderly patients with MM. While the cost of treating the transplanted patients was higher, the incremental cost effectiveness ratio is below the commonly accepted threshold for cancer treatment. Components of cost will be presented to describe the impact of novel agents.
Author(s): Gunjan L. Shah, Aaron Winn, Pei-Jung Lin, Andreas Kirschmer Klein, Kellie A. Sprague, Rachel J. Buchsbaum, Joshua T Cohen, Kenneth B Miller, Raymond Comenzo, Susan Kenyon Parsons; Division of Hematology/Oncology Tufts Medical Center, Boston, MA; Center for the Evaluation of Value and Risk in Health, Tufts Medical Center, Boston, MA; Institute for Clinical Research and Health Policy Studies Tufts Medical Center, Boston, MA
---
ABOUT GUNJAN L. SHAH, MD
Dr. Gunjan Shah is an Oncologist in New York, New York. She received her medical degree from Temple University School of Medicine, specializing in hematology/oncology. Dr. Shah is affiliated with Tufts Medical Center Visit Dr. Gunjan Shah's full biography.
Previous Post
ASCO 2014: Dose-dependent efficacy of DARA as monotherapy in patients with relapsed or refractory MM
Next Post
ASCO 2014: MM-014 A phase 2 trial evaluating efficacy, safety, and biomarkers of POM+LoDEX in RRMM