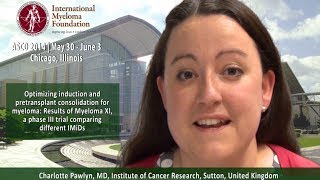 ASCO 2014: Results of Myeloma XI, a phase III trial comparing different IMiDs
Post date
October 13, 2015
Charlotte Pawlyn, MD
Institute of Cancer Research
Sutton, United Kingdom
Abstract No: 8537
Background: Treatment with immunomodulatory agents (IMiDs) and proteasome inhibitors (PIs) has dramatically increased response rates and survival for myeloma patients over the last decade. Triplet drug combinations are more effective than doublets or single agents. The more recently developed IMiD lenalidomide, with a different spectrum of effects to thalidomide, is an excellent option for induction therapy due to its oral administration and lack of significant peripheral neuropathy (PN) when compared with bortezomib and thalidomide.
Methods: Myeloma XI, a phase III randomised trial for newly diagnosed patients of all ages, compared induction treatment with cyclophosphamide/lenalidomide/dexamethasone (CRD) to cyclophosphamide/thalidomide/dexamethasone (CTD) given to max. response or intolerance. To evaluate the role of pre-transplant consolidation with a PI we randomised patients achieving <VGPR to additional cyclophosphamide/bortezomib/dexamethasone (CVD) vs nothing. Fit patients went on to receive melphalan+ASCT. Recruitment is now complete.
Results: Results are available for a total of 1939 patients, 1104 intensive pathway (540 CRD vs 564 CTD, median age 61 yrs, range 28-75) + 835 non-intensive (411 CRDa vs 424 CTDa, median 74 yrs, range 51-89). 274 patients received additional bortezomib. The pre-planned ITT analysis of combined CR+VGPR rates shows a significant difference between CRD and CTD treatment on multivariate analysis in favour of CRD with odds ratio 1.27 (95% CI 1.06-1.52, p = 0.009). This is due to different CR rates (CRD: CR 25%, VGPR 30%, PR 26% vs CTD: CR 15%, VGPR 33%, PR 31%). Additional bortezomib therapy for those with a suboptimal response upgraded response in 51% demonstrating that PI therapy can be effective in patients intrinsically resistant to IMiDs. Treatment with both IMiDs was well tolerated. Patients on lenalidomide had lower rates of PN (≥ grade II CRD 1.9% vs CTD 6.3%, p<0.001) but higher rates of grade III/IV cytopenias.
Conclusions: We have demonstrated an important difference in response between the IMiDs thalidomide and lenalidomide however further follow up is required to see whether this translates into prolonged PFS and OS.
Clinical trial information: NCT01554852.
Author(s): Charlotte Pawlyn, Faith E Davies, David A. Cairns, Walter Gregory, Ana Quartilho, Jacqueline Ouzman, Helen C Howard, Corinne Collett, Jindriska Lindsay, Gordon Cook, Donald Milligan, Claire Chapman, David Allotey, Roger G. Owen, Mark Drayson, Nigel Russell, Graham H. Jackson, Gareth J Morgan, On behalf of the NCRI Haemato-Oncology Subgroup; Centre for Myeloma Research, Institute of Cancer Research, London, United Kingdom; Clinical Trials Research Unit, University of Leeds, Leeds, United Kingdom; East Kent Hospital, Canterbury, United Kingdom; St. James's University Hospital, Leeds, United Kingdom; Department of Haematology, Birmingham Heartlands Hospital, Birmingham, United Kingdom; Department of Haematology, Leicester Royal Infirmary, Leicester, United Kingdom; Department of Haematology, Royal Derby Hospital, Derby, United Kingdom; Haematological Malignancy Diagnostic Service, St. James's University Hospital, Leeds, United Kingdom; Division of Immunity and Infection Medical School, University of Birmingham, Birmingham, United Kingdom; Department of Haematology, Nottingham City Hospital, Nottingham, United Kingdom; Department of Haematology, University of Newcastle, Newcastle-upon-Tyne, United Kingdom
---
ABOUT CHARLOTTE PAWLYN, MD
Dr. Charlotte Pawlyn is a Clinical Research Fellow and Lecturer at the Institute of Cancer Research in London, United Kingdom. Dr. Pawlyn specializes in cancer research, genetics, and immunology. In 2015, Dr. Pawlyn was awarded a Women in Cancer Research Scholar Award at the American Association for Cancer Research (AACR) annual meeting in Philadelphia. She was awarded the scientist-in-training award for her work investigating the role of a protein called EZH2 in myeloma. Her research has linked the increased activity of EZH2 to more aggressive forms of myeloma. The exciting and novel nature of her work was recognized because it could help in the development of new targeted treatment for myeloma.
Previous Post
ASCO 2014: Overall survival results of MM-003 after adjustment for crossover
Next Post
ASCO 2014: Remission of Disseminated Cancer After Using Modified Measles Vaccine