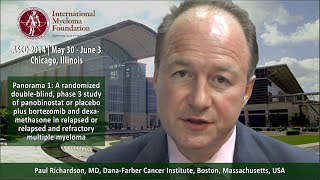 ASCO 2014: Panorama 1 Phase 3 study of PAN or placebo plus BTZ and Dex in RRMM
Post date
October 13, 2015
Paul Richardson, MD
Dana-Farber Cancer Institute
Boston, Massachusetts, USA

Panorama 1: A randomized, double-blind, phase 3 study of panobinostat or placebo plus bortezomib and dexamethasone in relapsed or relapsed and refractory multiple myeloma
Abstract No: 8510^
Background: Panobinostat (PAN) is a potent pan-deacetylase inhibitor that demonstrates synergistic antimyeloma activity when combined with bortezomib (BTZ) + dexamethasone (Dex). Early studies demonstrated durable responses in patients (pts) with relapsed (Rel) and relapsed/refractory (RR) multiple myeloma (MM) treated with PAN + BTZ + Dex. This initiated the PANORAMA 1 study, presented herein.
Methods: Eligible pts had Rel or RR (excluding BTZ- and primary-ref MM) following 1-3 prior regimens. Pts received oral PAN (20 mg) or placebo (pbo) 3 ×/wk + IV BTZ (1.3 mg/m2; D 1, 4, 8, 11) during wks 1-2 with oral Dex (20 mg) on the days of and after BTZ in treatment phase (TP) 1, eight 3 wk cycles. Pts demonstrating benefit could proceed to TP2, with PAN dosing maintained and BTZ/Dex less frequent. The primary endpoint was progression free survival (PFS) with response assessed by modified EBMT criteria. Other endpoints included overall survival (OS), overall response rate (ORR), near complete/complete response (nCR/CR) rate, duration of response (DOR), and safety. PFS/ORR was confirmed by an independent review committee.
Results: A total of 768 pts (PAN + BTZ + Dex [n = 387]; pbo + BTZ + Dex [n = 381]) were randomized. Median age was 63 y (42% ≥ 65 y) and 48% received ≥ 2 prior regimens. Prior therapies included BTZ (43%), thalidomide (51%), lenalidomide (20%), and 25% received both prior BTZ + IMiDs. The primary endpoint was met with median PFS of 12 mo vs 8.1 mo (P < .0001; HR 0.63, 95% CI [0.52, 0.76]) for pts treated on the PAN vs pbo arm. In the PAN and pbo arms, ORR was 61% vs 55% and nCR/CR rate was 28% vs 16%, with DOR of 13.1 mo vs 10.9 mo, respectively. OS data is not mature. Adverse events (AEs) led to discontinuation in 36% in the PAN arm and 20% in the pbo arm. Common grade 3/4 lab abnormalities and AEs (regardless of study drug relationship) in the PAN vs pbo arms included thrombocytopenia (67% vs 31%), neutropenia (35% vs 11%), and diarrhea (26% vs 8%); these were generally manageable with dose reduction/supportive care. On-treatment deaths occurred in 8% and 5%, respectively.
Conclusions: PAN + BTZ/Dex significantly improves PFS in pts with Rel or RR MM, with manageable toxicity.
Clinical trial information: NCT01023308.
Author(s): Paul G. Richardson, Vania T.M. Hungria, Sung-Soo Yoon, Meral Beksac, Meletios A. Dimopoulos, Ashraf Elghandour, Wieslaw W. Jedrzejczak, Andreas Guenther, Thanyaphong Na Nakorn, Noppadol Siritanaratkul, Robert L. Schlossman, Jian Hou, Philippe Moreau, Sagar Lonial, Jae Hoon Lee, Hermann Einsele, Monika Sopala, Bourras-Rezki Bengoudifa, Claudia Corrado, Jesùs F. San-Miguel; Dana-Farber Cancer Institute, Boston, MA; Irmandade da Santa Casa de Misericordia de São Paulo, São Paulo, Brazil; Department of Internal Medicine, Seoul National University College of Medicine, Seoul, South Korea; Ankara University School of Medicine, Ankara, Turkey; Department of Clinical Therapeutics, University of Athens School of Medicine, Athens, Greece; Alexandria University, Alexandria, Egypt; Medical University of Warsaw, Warsaw, Poland; Division of Stem Cell Transplantation and Immunotherapy, 2nd Department of Medicine, University Hospital Schleswig-Holstein and University of Kiel, Kiel, Germany; Chulalongkorn University, Bangkok, Timor-Leste; Siriraj Hospital, Bangkok, Thailand; Chang Zheng Hospital, Shanghai, China; University Hospital of Nantes, Nantes, France; Winship Cancer Institute of Emory University, Atlanta, GA; Department of Internal Medicine, Gachon University Gil Hospital, Incheon, South Korea; Medizinische Klinik und Poliklinik II, University of Wuerzburg, Würzburg, Germany; Novartis Pharma AG, Basel, Switzerland; Universidad de Navarra, Pamplona, Spain
---
ABOUT PAUL RICHARDSON, MD
Paul Richardson, M.D. is the Clinical Program Leader and Director of Clinical Research at the Jerome Lipper Multiple Myeloma Center at Dana-Farber Cancer Institute in Boston. He is also an Institute Physician and an RJ Corman Professor of Medicine at Harvard Medical School in Cambridge, MA. In addition to multiple myeloma, his key clinical interests are regimen-related toxicity, stem cell transplantation, experimental therapies and cancer pharmacology, and more. Visit Dr. Paul Richardson's full biography.
Previous Post
ASCO 2014: Free light chain assay and cytogenetic abnormalities for identification of HRSM
Next Post
ASCO 2014: MM-005 Phase 1 trial of POM, BORT, and LoDEX in LEN refractory and PI exposed myeloma