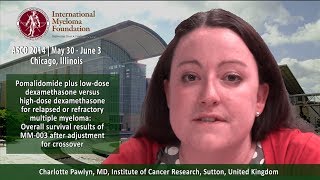 ASCO 2014: Overall survival results of MM-003 after adjustment for crossover
Post date
October 13, 2015
Charlotte Pawlyn, MD
Institute of Cancer Research
Sutton, United Kingdom

Pomalidomide plus low-dose dexamethasone (POM plus LoDEX) versus high-dose dexamethasone (HiDEX) for relapsed or refractory multiple myeloma (RRMM): Overall survival (OS) results of MM-003 after adjustment for crossover
Abstract No: 8593
Background: The pivotal, randomized phase 3 MM-003 trial in patients (pts) with RRMM demonstrated significantly longer median progression-free survival (PFS) with POM + LoDEX (n = 302, 4 months) than with HiDEX (n = 153; 1.9 months; P < 0.0001). Unadjusted median OS was also significantly longer with POM + LoDEX than with HiDEX (HR 0.74; P = 0.0285) despite the crossover of approximately 50% of pts from the HiDEX arm to POM + LoDEX or POM monotherapy. In the presence of extensive crossover, conventional survival analysis methods are biased. Here, we used the 2-stage Weibull method for crossover adjustment to estimate the OS difference between POM + LoDEX and HiDEX.
Methods: A 2-stage model was used to estimate counterfactual, adjusted survival data for the HiDEX arm, using a secondary baseline defined by the time of disease progression. To extrapolate the counterfactual data as required by health technology assessment bodies, standard model selection methods were used to identify the best fitting parametric model.
Results: Unadjusted median OS in MM-003 was 12.7 and 8.1 months in the POM + LoDEX and HiDEX groups, respectively. After adjusting for crossover, the difference in median OS in the 2 groups was 7.0 months (12.7 vs 5.7 months). Median OS in the POM + LoDEX arm was therefore more than double that in the HiDEX arm. Extrapolation using a log-normal model fitted to the adjusted OS data produced an estimated difference in mean survival times of 14.6 months (28.0 vs. 13.4 months). Predicted survival at 3 years was 21% for pts on POM + LoDEX compared with 8% for pts on HiDEX.
Conclusions: The MM-003 intent-to-treat analysis showed a significant increase in median PFS and OS for POM + LoDEX vs HiDEX. The present analysis suggests that OS with POM + LoDEX is double that with HiDEX after accounting for crossover. Extrapolation over a lifetime horizon predicts a mean survival difference between POM + LoDEX and HiDEX of more than 14 months. These data provide important evidence for understanding the clinical efficacy and evaluating the overall economic value of POM in the treatment of RRMM.
Clinical trial information: NCT01311687.
Author(s): Gareth J Morgan, Jesus San Miguel, Sujith Dhanasiri, Dawn Lee, Antonio Palumbo, Thierry Facon, Mohamed H. Zaki, Xin Yu, Lars Axel Sternas, Christian Jacques, Katja C. Weisel, Fritz Offner, Meletios A. Dimopoulos; Centre for Myeloma Research, Institute of Cancer Research, London, United Kingdom; Universidad de Navarra, Pamplona, Spain; Celgene Ltd, Uxbridge, United Kingdom; BresMed, Sheffield, United Kingdom; Multiple Myeloma Unit, University of Torino, Torino, Italy; Service des Maladies du Sang, Hôpital Claude Huriez, Lille, France; Celgene Corporation, Summit, NJ; Department of Hematology and Oncology, University Hospital of Tuebingen, Tuebingen, Germany; Ghent University Academic Bibliography, Gent, Germany; Alexandra Hospital, University of Athens School of Medicine, Athens, Greece
---
ABOUT CHARLOTTE PAWLYN, MD
Dr. Charlotte Pawlyn is a Clinical Research Fellow and Lecturer at the Institute of Cancer Research in London, United Kingdom. Dr. Pawlyn specializes in cancer research, genetics, and immunology. In 2015, Dr. Pawlyn was awarded a Women in Cancer Research Scholar Award at the American Association for Cancer Research (AACR) annual meeting in Philadelphia. She was awarded the scientist-in-training award for her work investigating the role of a protein called EZH2 in myeloma. Her research has linked the increased activity of EZH2 to more aggressive forms of myeloma. The exciting and novel nature of her work was recognized because it could help in the development of new targeted treatment for myeloma.
Next Post
ASCO 2014: Results of Myeloma XI, a phase III trial comparing different IMiDs