For more information, please contact
Dave Lensch 319-298-9347
E-mail: [email protected]
Meeting time
2nd Thursday of each month from 6:30 – 8:00 PM
Meeting Location
Mercy Hall Perrine Cancer Center, Community Room 701 10th ST SE Cedar Rapids, IA 52403
Upcoming events
IMF Events
Support Group Events
What Is Multiple Myeloma?
Multiple myeloma is a cancer of the bone marrow plasma cells. It is synonymous with "myeloma" and "plasma cell myeloma." Plasma cells make antibodies against infectious agents such as viruses and bacteria. A cancerous or malignant plasma cell is called a myeloma cell. Myeloma is called "multiple" because there are frequently multiple patches or areas in bone marrow where it grows.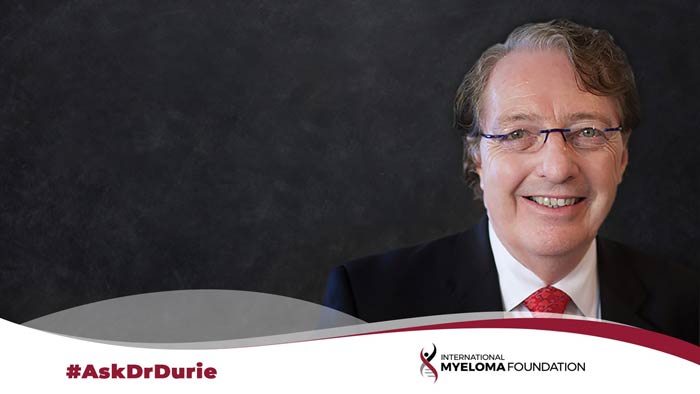 deep-ocean
Week in Review by Dr. Brian G.M. Durie
deep-ocean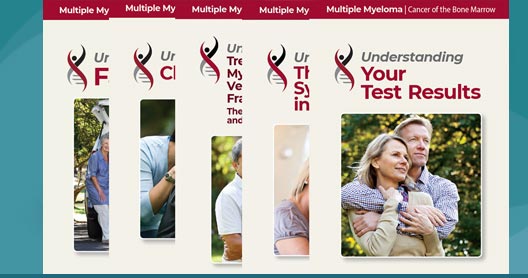 deep-ocean
About Us
The Cedar Rapids Multiple Myeloma Support Group was started by Inez & Dave Lensch with the help of Sue Enright, IMF Midwest District Director of support groups, and Kris Sargent, Oncology Nurse Navigator at Mercy Hall-Perrine Cancer Center in Cedar Rapids, Iowa.
Inez was diagnosed in 2005 when her internist at that time noticed a protein spike in her regular routine lab reports. Her doctor got out her medical journals and discovered it was MGUS, the precursor to Multiple Myeloma. She referred her to an oncologist in Cedar Rapids who upon the first visit, confessed she didn't know anything about Multiple Myeloma and the University of Iowa Hospitals in Iowa City didn't specialize in that particular cancer back then. So she referred Inez to Mayo Clinic in Rochester, MN.
​Inez was diagnosed with smoldering myeloma in 2006 at Mayo Clinic and was watched and checked yearly, then every 6 months and eventually every 3 months as the disease slowly progressed. Finally a stem cell transplant was scheduled for the spring of 2011. In February of 2011 a MM tumor was discovered in her right femur and needed to be removed immediately. Surgery went well and she returned to Cedar Rapids to heal and received 10 radiation treatments at Mercy Hall-Perrine Cancer Center just to be sure all minute cancer cells were destroyed. Healing went well and finally in August, 2011 she had her stem cell transplant at Mayo Clinic. She stayed in the Gift of Life Transplant House with a caregiver during the weeks of treatment and recovery. Living in the Gift of Life Transplant House, she was able to walk to and from the hospital (7 blocks) each day for labs and treatment. She was never admitted into the hospital but was treated as an outpatient as all MM patients are at Mayo Clinic. The doctors were amazed at how well she was doing and when her numbers were up to their standards, she was released to go home after just 4 weeks.
She was doing well with no maintenance treatment for about 18 months and then the MM numbers slowly began to rise. Revlimid and Dexamethasone were the treatment plan and did well for a while. Tweaking the amounts of Revlimid were tried until it was not working, so the next alternative was to use Velcade (by injection just under the skin) once a week along with the dexamethasone. The change of treatment has been successfully reducing the protein numbers but allowing the blood counts to remain stable up to the present time.
The Spring of 2013 Aimee Martin from the IMF called and asked if Inez could attend the City Council Meeting to receive the proclamation stating March as Multiple Myeloma awareness Month. Shortly there after several persons relayed the names of friends they knew who also had Multiple Myeloma. Up until this time, she only knew one other person in the Cedar Rapids area with MM. She made contact with these patients and after much thought and prayer, decided it's time to get us all together in a support group. Not knowing anything about how to get one started, she called the International Myeloma Foundation for some help. And wow! Sue Enright, Midwest District Director of Support Groups, called her and they had several phone conversations that lead to the start of the Cedar Rapids MM Support Group.
Inez also mentioned wanting to start a support group to her oncologist in Cedar Rapids and she immediately gave her Kris Sargent's, name. Kris is a great resource person and works with support groups at Mercy so between the two, Sue and Kris, Inez was sure that a support group in Cedar Rapids would become a reality.
IMF flyers reached out to a 90 mile radius from Cedar Rapids and the first meeting was planned for September, 2013. It was amazing to find out how many patients are in the area and are eager to meet together! The group continues to grow and is open to any Multiple Myeloma patients, caregivers, family and friends who want to learn more about the disease and help to support and encourage one another by gathering together every month. Do come and join us!